It Takes a Village Grant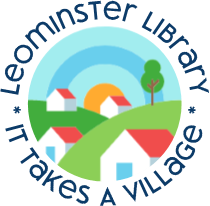 The It Takes a Village grant project has been a success due to the generous support from our community and funding from the Massachusetts Board of Library Commissioners.
Although the project is over, the task to develop early literacy skills continues. How does one build on the progress that has been made? Here are a few book recommendations to keep families on track that include age-appropriate reading lists:
If you want to start a book club with like-minded folks in your neighborhood, homeschool group, or play group, try Reading Together: Share in the Wonder of Books with a Parent-Child Book Club by Noah Brown.
Given the opportunity, children love to participate in a story. This Book Just Ate My Dog by Richard Byrne asks for the reader's help by shaking the book to dislodge the dog from the book's gutter. Press Here by Herve Tullet has the reader pressing and tilting the page to maneuver dots while they learn about primary colors and numbers.
Poetry is another way to motivate a reluctant reader. It is short and not as daunting as a book. Children learn about sound (such as voice, pitch, volume, and inflection) and build vocabulary. Reciting rhymes is an engaging and memorable experience. For older children, Joyful Noise: Poems for Two Voices by Paul Fleischman is a fun read aloud which will have both of you giggling.
Wordless picture books allow the child to be the storyteller. Telling stories allows both imagination and confidence to grow while exercising verbal skills. The Farmer and the Clown by Marla Frazee and A Ball for Daisy by Christopher Raschka are good choices.
Don't forget the range of programs and services at the Leominster Public Library:
In addition to the summer and winter reading programs where children can win prizes, there are regular story times for each stage of development: Read to Your Bunny (12-24 months old), Terrific Twos, Preschool Story Time (ages 3-5), Story Time & Craft (ages 3-7), and Kids Book Club (ages 8-12). Sign up to be notified for upcoming events in the Children's Room.
Borrow e-books, audiobooks, magazines, and more on your smartphone or tablet by downloading the Libby app. It's free. You'll need a valid library card to use the Libby app. No library card? No problem. Pop-Up Library—which requires no library card—will be appearing at a location near you.
VOX books are print and audio books in one. The child can follow along the printed page while listening to the audio portion. An audible tone alerts the reader when to turn the page.
Take advantage of used books sales at flea markets, yard sales, garage sales, and Friends of the Library book sales to build a personal library. Hold a book swap. Share a book that you enjoyed.
Staff in the Children's Room are happy and willing to answer any questions you may have. They can suggest books that match your child's interests--that your child may enjoy reading with you or on their own.
Read anything good lately?