It Takes a Village Grant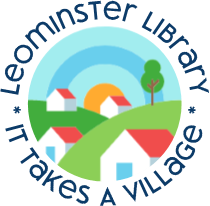 The Leominster Public Library—in partnership with the Spanish American Center, Project Apples, and community organizations—has launched a book drive this month. Book donations are being accepted now in preparation for the Children & Teen's Book Festival to be hosted by the Friends of the Leominster Public Library on Saturday, February 19th. The festival is the kick-off event for a series of programming funded by the It Takes a Village Grant project.
What kind of books are being sought? Board books, alphabet books, counting books, picture books, poetry, folklore, fairy tales, interactive books, fiction, science fiction, historical fiction, short stories, nonfiction, biography, graphic novels, award-winning books, poetry, easy readers, and chapter books. Basically, anything that children, tweens, and young adults would enjoy. Children's books in foreign languages—especially Spanish, Portuguese, Pashto, or Dari—are welcomed!
Current donation drop-off locations include:
Holy Family of Nazareth Parish, located at 750 Union Street
Saint Cecilia Parish, located at 180 Mechanic Street
Seventh-Day Adventist Church, located at 445 Union Street
Our Lady of the Lake, located at 1400 Main Street
Elks Lodge located, at 134 North Main Street
Please do not return library books to these sites. More locations may be added; please check the library's website for updates.
You can also drop off book donations at the Leominster Public Library during regular hours: Sunday 1:00 to 5:00 pm; Monday through Thursday 9:00 am to 9:00 pm; Friday and Saturday 9:00 am to 5:00 pm. If you are dropping off more than 2 copy paper sized boxes, please contact Assistant Director Nicole Butler at 978-962-3597.
The library is thankful for the community and its generosity. If you are interested in volunteering to help manage the book donations, please call the library at 978-534-7522 x3. These programs and services are made possible through federal funds provided by the Institute of Museum and Library Services as administered by the Massachusetts Board of Library Commissioners.