It Takes a Village Grant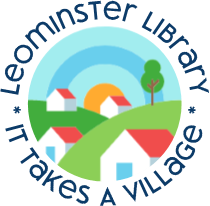 The Leominster Public Library and Project Apples Present: Engaging Families in Children's Literacy Development Workshop
The workshop is geared toward families with children of preschool to Pre-K age. Learn how you can support your child's literacy development. Childcare provided.
The goals are to help you:
learn about fun ways to engage children in literacy play
find out ways to turn everyday experiences into learning opportunities
build literacy skills that will help your children become good readers, writers, speakers, and listeners
enjoy some high-quality time with your children.
The workshop is free. All sessions meet on Tuesdays from 10:00 am to 11:00 am. You may attend one or all five sessions. Registration is required.
July 5 Session 1: Literacy Happens at Home (registration opens June 21)
July 12 Session 2: Literacy Happens in the Living Room (registration opens June 28)
July 19 Session 3: Literacy Happens in the Kitchen (registration opens July 5)
July 26 Session 4: Literacy Happens in the Bedroom and Bathroom (registration opens July 12)
August 2 Session 5: Literacy Happens Out and About (registration opens July 19)
This program is supported by federal funds provided by the Institute of Museum and Library Services and administered by the Massachusetts Board of Library Commissioners.
Project Apples is funded by a grant from the MA Dept. of Early Education & Care.