Outreach Programs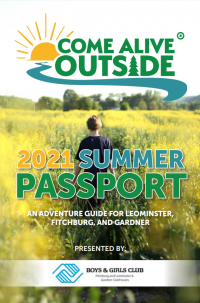 We have partnered with the Boys & Girls Club of Fitchburg, Leominster, and Gardner to offer programs as part of the Come Alive Outside 2021 Summer Passport.
HOW THE PASSPORT WORKS: Do fun stuff and win cool prizes!
Complete at least 30 points in your passport to earn prizes! The last day of the program is September 3, 2021. Look at the last page of your booklet to see more information on prizes. Be sure to practice safe physical distancing while completing your passport activities.
Click here to print your own passport and participate!