Hours and Address
Due to the COVID-19 outbreak, the Library is open for browsing Mondays - Thursdays from 10am-7pm, Friday 10am-5pm, & Saturday 10am to 1pm . No appointment needed!
Holds can be picked up as part of our Curbside Service Mondays-Thursday 9:30am -7pm & Friday-Saturdays from 9:30am-4pm.

Printing, copying, scanning, and faxing can be done as part of our Curbside Services.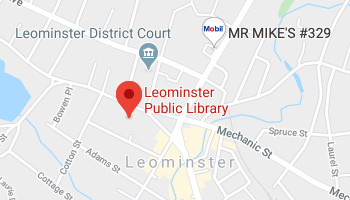 30 West Street
Leominster, MA 01453
978-534-7522
Contact Us
Labor Day – Memorial Day
| | |
| --- | --- |
| Monday | 9:00 AM - 9:00 PM |
| Tuesday | 9:00 AM - 9:00 PM |
| Wednesday | 9:00 AM - 9:00 PM |
| Thursday | 9:00 AM - 9:00 PM |
| Friday | 9:00 AM - 5:00 PM |
| Saturday | 9:00 AM - 1:00 PM |
| Sunday | Closed |
June
| | |
| --- | --- |
| Monday | 10:00 AM - 7:00 PM |
| Tuesday | 10:00 AM - 7:00 PM |
| Wednesday | 10:00 AM - 7:00 PM |
| Thursday | 10:00 AM - 7:00 PM |
| Friday | 10:00 AM - 5:00 PM |
| Saturday | 10:00 AM - 1:00 PM |
| Sunday | Closed |
July & August
| | |
| --- | --- |
| Monday | 10:00 AM - 7:00 PM |
| Tuesday | 10:00 AM - 7:00 PM |
| Wednesday | 10:00 AM - 7:00 PM |
| Thursday | 10:00 AM - 7:00 PM |
| Friday | 10:00 AM - 5:00 PM |
| Saturday | 10:00 AM - 1:00 PM |
| Sunday | Closed |