Hours and Address
Holds can be picked up as part of our Curbside Service Mondays-Saturdays from 9:30am-4pm.
The Library is open by APPOINTMENT ONLY Mondays - Thursdays from 10am-3pm due to the COVID-19 outbreak.

Appointments will permit patrons to browse the 1st floor ONLY. This includes the New Release, Audiobook, DVD and CD collections. Access to the Dr. Martin T. Feldman Children's Room and the Cormier Center for Young Adults is NOT available at this time. Staff are happy to assist patrons in obtaining materials from these areas and the 2nd and 3rd floors, as requested. Please note that we are unable to fulfill study room and meeting room reservations at this time.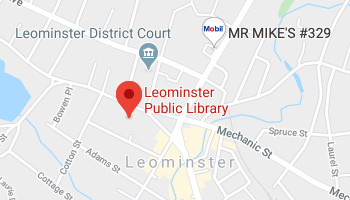 30 West Street
Leominster, MA 01453
978-534-7522
Contact Us
Browse By Appointment
| | |
| --- | --- |
| Monday | 10:00 AM - 3:00 PM |
| Tuesday | 10:00 AM - 3:00 PM |
| Wednesday | 10:00 AM - 3:00 PM |
| Thursday | 10:00 AM - 3:00 PM |
| Friday | Closed |
| Saturday | Closed |
| Sunday | Closed |
Curbside Holds Pickup
| | |
| --- | --- |
| Monday | 9:30 AM - 4:00 PM |
| Tuesday | 9:30 AM - 4:00 PM |
| Wednesday | 9:30 AM - 4:00 PM |
| Thursday | 9:30 AM - 4:00 PM |
| Friday | 9:30 AM - 4:00 PM |
| Saturday | 9:30 AM - 4:00 PM |
| Sunday | Closed |
Available by Phone or Email
| | |
| --- | --- |
| Monday | 9:00 AM - 5:00 PM |
| Tuesday | 9:00 AM - 5:00 PM |
| Wednesday | 9:00 AM - 5:00 PM |
| Thursday | 9:00 AM - 5:00 PM |
| Friday | 9:00 AM - 5:00 PM |
| Saturday | 9:00 AM - 5:00 PM |
| Sunday | Closed |