Past, Present, and Future
The Leominster Public Library serves as a gateway providing free and equal access to materials, information and technology. The Library delivers programs, services, and resources to enhance the quality of life for the community.
Vision
The Leominster Public Library will be a welcoming place that reflects the diverse needs of the community. The Library will be a place that inspires innovation and creativity, supports lifelong learning, and fosters civic engagement. The Library will bring people together to explore and share ideas.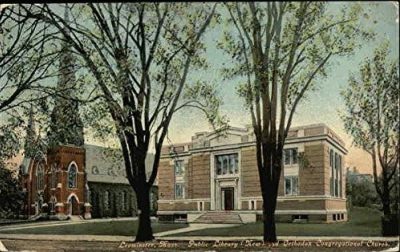 History
The Leominster Social Library began in 1763 with approximately 100 books, which were kept in a pine secretary in the study of [local First Church minister] Reverend Francis Gardner. The secretary was later given to the Library Committee by Reverend Gardner's granddaughter and is now on permanent display beside the Information Desk on the Library's second floor.
In the spring of 1856, the town voted to accept a collection of books from the Leominster Lyceum Library, to appropriate $75.00 to support the Free Public Library for that year, and to appoint a five-member library committee. This committee, in turn, hired its first librarian in June 1856.

The Public Library's collection was by turns housed in a store, an office, and a room in old Town Hall. Finally, in 1908, the town voted to accept a gift of $27,500 from Andrew Carnegie to build a new library building. The library opened in 1910 in its current location. In 1967, it opened a 10,000-square-foot addition with 61,669 volumes.
In early 2005, the Leominster Public Library began work on a major renovation of the facility. This project included restoration of the library's historic 1910 building, demolition of the 1967 addition, and construction of a new three-story, 34,434-square-foot addition. The newly renovated and expanded building opened in 2007.
Annual Report and Budget