Discovery Kits
Our Discovery Kits are available for checkout! The themed collections include books, DVDs, and exciting hands-on activities such as puzzles or games.
NEW! Preschool Puzzle Kit and Life Cycles Kit for Grades 1-4 !

Also: Learn to use a telescope or microscope.
Study rocks & minerals, the human body, or electricity.
Learn chess, juggling, or how to play the ukulele.
Build a bridge with the Three Billy Goats Gruff or compare the Three Little Pigs' houses with one of our STEM kits, or just have fun learning about unicorns, dragons and cryptids.
Try out some fun family-friendly games with our Family Game Night Kit.
All kits can be checked out for three weeks at a time, with one renewal.

Call or visit the Dr. Martin T. Feldman Children's Room for more information or to reserve a kit!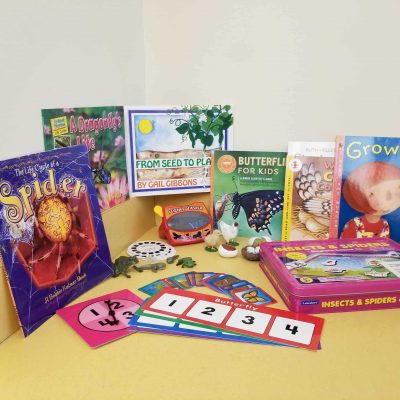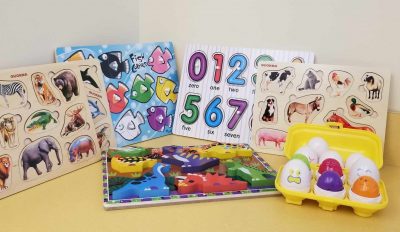 Find a complete list of all of our Discovery and Hobby Kits below!
Hobby Fun Kits*
Drawing & Stenciling (PreK & up)

Family Game Night ( Gr. K & up)
Juggling (Gr. 3 & up)
Junior Juggling (PreK-Gr. 2)
Learn Chess (Gr. 1 & up)
Magic Fun (Gr. 3 & up)
Junior Magic Fun (PreK-Gr. 2)
Marble Run (K & up)
Weaving Kit (Gr. 3 & up) 
Ukulele Kit (Gr. 1 & up) 

*Recommended grades are just guidelines
Hooked on Phonics
Learn to Read Kindergarten
Learn to Read First Grade
Learn to Read Second Grade
Discovery Kits
Addition (PreK-Gr. 2)

Alphabet (PreK-1)

Apples (Gr. K-3) 

Beaches & Oceans (Gr. 1-6) 
Birds (Gr. K-6)

Counting & Numbers (PreK-Gr. 2)
Cryptids (Gr. 2-6) 
Dinosaurs & Fossils (Gr. 5-6)
Dr. Seuss (PreK-Gr. 1)
Electricity (Gr. 4-6)
Eric Carle (PreK-Gr. 1)
Fine Motor & Shoe Tying (PreK-Gr. 3)
Fire Safety (PreK-Gr. 1)
Five Senses (PreK-Gr. 2) 
Force & Motion (Gr. 4-6)
Goldilocks STEM Kit (PreK-Gr. 1)
Human Body (Gr. 4-6)
Insects (Gr. 1-3)
Johnny Appleseed STEM Kit (Gr. 2-3)
Junior Telescope Kit (Gr. 1-6)
Kindergarten Kit (PreK-Gr. 1) 

Lacing (Gr. PreK & up)

Magnets (K-Gr. 4)
Microscope Kit (Gr. 3-6) 
Mindfulness & Relaxation (PreK-Gr. 6)
Money Basics (Gr. 1-5) 

Music & Rhythm (Gr. K-6)
Multiplication & Division (Gr. 2-5) 
Nature Exploration (PreK-Gr. 2)
Nutrition (PreK-Gr. K-3) 

Occupations (PreK-Gr. 2) 
Positional Words (PreK-Gr. 3)
Rapunzel STEM Kit (PreK-Gr. 1)
Robotics & Coding (PreK-Gr. 3)
Rocks & Minerals (Gr. 3-6) 
Shapes (PreK-Gr. 1)
Simple Machines (Gr. 4-6)
Sink or Float (Gr. K-4)
Social Emotional Learning (PreK-Gr. 3) 
Solar System (Gr. 5-6)
Sorting & Size (PreK-Gr. 1)
Telling Time (PreK-Gr. 3)
Three Billy Goats Gruff STEM Kit (PreK-Gr. 1)
Three Little Pigs STEM Kit (PreK-Gr. 1)

Unicorns & Dragons (Gr. 1-6) 
Weather (Gr. 5-6)
Yoga (PreK-Gr. 1)